Shoheijuku Newsletter November 2023
Osaka Shomonkai
On Saturday, October 7h, seminar and examination for Osaka Shomonkai (Mr. Yuuki Takeda, Dojo Rep) were held at Senri Chuo Gym. It was a lively seminar with many participants from nearby dojos. After the seminar, we had a party for the first time in a long time and we appreciated delicious food.
Uwajima Shoheijuku
On Sunday, October 20th, seminar and examination for Uwajima Shoheijuku (Mr. Tatsuro Ono, Dojo Rep) were held at Uwajima City Martial Arts Hall. Many people from Kochi joined us and it was a lively and peaceful seminar.
As it marked the 30th year since the dojo was founded, the founder of the dojo, Mr. Noboru Inoue (currently a Shoheijuku instructor) accompanied me as well. People I had not seen for a long time also gathered and we enjoyed sharing good old memories.   
Uji Shoheijuku
On Sunday, October 28th, a commemorating event for the 20th anniversary of Uji Shoheijuku (Mr. Taizo Ochi, Dojo Rep) was held at Joyo Civic Gymnasium. Over 60 people attended from various regions.
We had examination, seminar, embukai, and celebration party. It was a very fulfilling event for the 20th anniversary. I appreciate all the participants from various regions.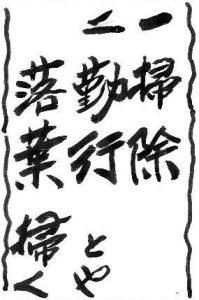 Next day, I visited some Shinto shrines and Buddhist temples. It was my first time to visit Honen-in where I saw a large wooden screen with words "Ichi Soji, Ni Gongyo, toya Ochiba haku (Cleaning first, Religious services second. Then I will sweep the fallen leaves.)".
I could not help but I was deeply moved by the words.
Obituary
Barbara Sensei (79 years old) of Hilo Dojo in Hawaii practiced at Shoheijuku with her husband, Robert Sensei, from September 25th to 30th and returned to Hawaii. Right after returning home, on October 4th, she passed away due to a traffic accident.
My heartfelt condolences. I pray that she rests in peace. 
Events in November
3 – Kyudai/Seinan Embukai
4 – Maebaru Shoheijuku
5 – Beppu Dojo (Katsuhiko)
5 – Kumamoto Dojo
11 – Yuyukai (Takemura)
11 – Kurume Kosen 50th Anniversary
12 – Yatsushiro Seibukan & Hitoyoshi Seishokan (Katsuhiko)
12 – Oita Area
15 – Saga Shoheijuku (Takemura)
16 – Kurume Dojo (Takemura)
16 – Chikushino Dojo
17 – Fukuma Dojo (Fujioka)
18 – Tosu Shoheijuku (Yamada)
18 – Motooka Dojo (Katsuhiko)
18 – Onga Dojo
19 – Nishinomiya & Izumi Otsu Dojo
20 – Kasuya Shoheijuku (Takemura)
23 – Godo Geiko (joint seminar)
25 – Fukuoka University 30th Anniversary
26 – Zazenkai & Yoga
28 – Fukuma Ladies (Fujioka)
30 – Takatori Kyoshitsu (Fujioka)
30 – Koga Dojo (Yamada)
We have no Zazenkai in December.
– Morito Suganuma