Shoheijuku Newsletter September 2023
Shochu Geiko – 72 Completed
Late summer greetings to you!
For seven days until August 12th, we had Shochu Geiko at each Shoheijuku dojo.
It was held at eleven directly managed Shoheijuku dojos and as many as 72 people had perfect attendance. Dojo members in some regions could not go to their dojos because the public transportation system was completely stopped due to the torrential rain. However, we counted them as being in attendance.
The number of perfect attendees at each dojo is as follows:
Fukuoka Dojo – 15
Fujisaki Dojo – 12
Takasago Dojo – 12
Tenjin Dojo – 6
Onojo Shoheijuku – 2
Hombu Dojo – 11
Chikushino Dojo – 4
Harima Shoheijuku – 3
Omuta Dojo – 3
Motooka Dojo – 3
Gokoku Dojo – 1
Despite the heat wave, Mr. Satoshi Takahashi who is 92 years old made his perfect attendance this time.
Asahi Hakoshima, a fifth-grade elementary student, also completed it.
Mr. Yousuke Jozaki has completed Shochu Geiko for the past 45 years in a row.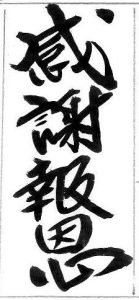 On the perfect attendance award towel this year, I wrote 感謝報恩 (kansha houon: gratefulness and repayment of kindness).
We should first appreciate our own healthy body that allowed ourselves to compete the Shochu Geiko despite the terribly hot weather. We should also appreciate our family members for their support and our fellow Aikido students who encouraged and inspired each other. We should also appreciate the instructors who lead the classes.
Let's keep the spirit of Kansha Houon in mind, and continue to do our best every day.
Ninomiya Sontoku valued a way of life with the spirit of 積小為大(sekisho idai) which means "If we intend to make a great achievement, we should not neglect small matters, but we must work hard on them. Piling up small efforts would eventually lead to a great success." Let's cherish each and every day.
Events in September
3 Kyushu University Camp (Takemura)
3 Minamata Dojo
9 Student Alliance Seminar (Katsuhiko)
16, 17 Takayama Shinseijuku
17 Examination (Katsuhiko, Yamada)
There will be no examination at Takasago Dojo on the 18th. If you would like to take a test on that day, please do so at Kurume Dojo.
18 Chikugo Area Seminar
20 Saga Shoheijuku (Takemura)
21 Koga Dojo (Yamada)
21 Kurume Dojo (Takemura)
22 Fukuma Dojo (Fujioka)
23 Yoga & Zazenkai
23 Seminar (Takemura)
25 Kasuya Shoheijuku (Takemura)
26 Fukuma Ladies (Fujioka)
30 Hibiki Dojo (Takemura)
30, Oct 1 Kobe Shoheijuku
The time for the women's class will change.
Starting in September, the women's class will be held for one hour from 10:30 AM every Monday, and will be instructed by Kimiko Sasuga.
Morito Suganuma